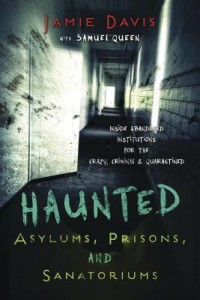 Published by  Llewellyn Publications
Released September 8, 2013
240 pages
Where I got it: E-galley received from publisher via NetGalley
[stars:1]
Description (from Goodreads):
The Shadow Man haunts penitentiary cell blocks.A chilling wind runs through the Death Tunnel.The Red Eyes Apparition lurks in abandoned hallways.

Explore frightening ghost stories and true paranormal encounters at ten well-known, haunted institutions across the United States. This unique collection of investigations is filled with terrifying photos, spooky highlights from on-site tours, and historical information about each location.

Haunted Asylums, Prisons, and Sanatoriums explores the country's scariest institutions, including the Trans-Allegheny Lunatic Asylum, West Virginia Penitentiary, and St. Albans Sanatorium. Discover creepy conversations between the authors and restless spirits, interviews with facility staff and knowledgeable ghost hunters, and helpful tips gathered from each investigation. You'll also enjoy an introduction to basic ghost hunting equipment and detailed information about organizing your own visits to these haunted establishments.
Wow, did I expect more from this book. The thought of hearing all about haunted asylums, prisons, and sanatoriums made me internally squeal with anticipation. Those are places that are scary enough when filled with the living–who knows what kind of dead would be contained inside. I'd still like to read a book about those places, because this book really did not deliver.
My main problem was the writing, which was very poor. For a book from a well-established publisher, I would have hoped that there would have been much more editing. Davis tries to express her enthusiasm for everything she has done and seen. Sadly, however, exclamation points do not equal exciting writing. The words and sentences themselves need to convey that, not a piece of punctuation.
I had also hoped there would have been more of an emphasis on the history of the sites visited. The bulk of the book gives a play by play of Davis and Queen's experiences doing ghost hunting in these places. I don't find that sort of thing interesting on television, and I find it even more dull in writing. Page after page includes transcriptions from "flashlight sessions," where Davis and Queen ask some spirit questions and hope that a flickering flashlight will indicate an answer. Unlike a Ouija board, there are no letters to spell out independent thoughts. It's entirely up to the living to create a narrative and interpret the answers.  In court, this kind of questioning would be called leading the witness. It might be fun for Davis and Queen, and they're entitled to their fun, but it makes for a pretty lame book. After a while, I started just skipping these sections entirely, which made the book fly by.
Possibly the only worthwhile part of this book was the section of each chapter that outlines ghost hunting parameters and costs for each of the locations. If you're into that sort of thing, it could save you some research time. Other than that, I found very little redeeming content here. What a pity.