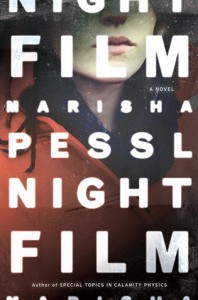 Published by Random House
Released August 20, 2013
624 pages
Where I got it: ARC received from publisher at ALA Annual 2013
Rating:





Description (from Goodreads):
On a damp October night, the body of young, beautiful Ashley Cordova is found in an abandoned warehouse in lower Manhattan. By all appearances her death is a suicide–but investigative journalist Scott McGrath suspects otherwise. Though much has been written about the dark and unsettling films of Ashley's father, Stanislas Cordova, very little is known about the man himself. As McGrath pieces together the mystery of Ashley's death, he is drawn deeper and deeper into the dark underbelly of New York City and the twisted world of Stanislas Cordova, and he begins to wonder–is he the next victim? In this novel, the dazzlingly inventive writer Marisha Pessl offers a breathtaking mystery that will hold you in suspense until the last page is turned.
Night Film was an absolute treat of a read for me. It started off a bit slowly, and I did roll my eyes at the setup and stereotypical detective noir elements Pessl uses to set the mood, but as I continued to read I became utterly engrossed. Just the like the main character, McGrath, gets sucked deeper and deeper into the world of dark filmmaker Cordova the longer he investigates, the stronger the pull of this book as I read layer after layer. The plot twists and turns in a really fun way, until you find yourself questioning everything about the story.
It opens with the introduction of Scott McGrath, a once A-list journalist whose ill-fated investigation of cult auteur Stanislas Cordova has ruined is career. McGrath lost everything–his job, his wife, custody of his daughter, and his own self-respect. The last thing he should do is pursue Cordova again, but after he sees fleeing beautiful woman desperate for help, then learns it was Cordova's daughter who later jumped to her death that night, McGrath can't turn away from the scent.
Despite warnings from all sides that following Cordova will only lead him into the darkest places of the human psyche, from which he may never return, McGrath attacks the case with a vigor he hasn't felt in years. But just what is he investigating? Did Ashley Cordova truly commit suicide, or was something more sinister at work? Are Cordova's films simply movies, or film documentary evidence of the depravity of their creator and his followers? Is the devil involved, with magic so black that it will destroy everybody who comes into contact with it?
Night Film is a doorstopper of a book, but I found that I didn't mind. Everytime I thought the story was wrapping up, it just went deeper. Pessl supports the plot with McGrath's own case files, so we can read the articles, police reports, and see the photographs that McGrath has collected. It was fascinating to have faces to put with the names in the story, and to feel like I was following along on the investigation as well.
I'm really happy that I was able to read Night Film–it's one that will stick with me for a long time. It's pleasantly grim, with characters that are at once attractive and repulsive. Night Film got under my skin.