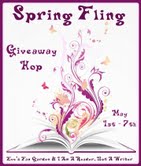 Welcome to the Spring Fling Giveaway Hop, hosted by I Am A Reader, Not A Writer & Eve's Fan Garden.
The idea of the "hop" is that a whole bunch of blogs plan different giveaways, then link up to make it easier for visitors to find and enter them. This hop runs from Wednesday, May 1, 2013 to Tuesday, May 7, 2013. The winner will be announced on the Rafflecopter form on Wednesday, May 8, 2013.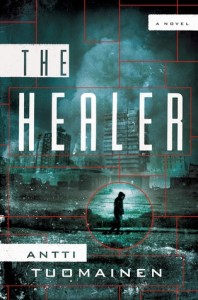 For this hop, I'm giving away an advanced reader copy of The Healer by Antti Tuomainen.
Description (from Goodreads):
It's two days before Christmas and Helsinki is battling a ruthless climate catastrophe: subway tunnels are flooded; abandoned vehicles are left burning in the streets; the authorities have issued warnings about malaria, tuberculosis, Ebola, and the plague. People are fleeing to the far north of Finland and Norway where conditions are still tolerable. Social order is crumbling and private security firms have undermined the police force. Tapani Lehtinen, a struggling poet, is among the few still able and willing to live in the city.

When Tapani's beloved wife, Johanna, a newspaper journalist, goes missing, he embarks on a frantic hunt for her. Johanna's disappearance seems to be connected to a story she was researching about a politically motivated serial killer known as "The Healer." Desperate to find Johanna, Tapani's search leads him to uncover secrets from her past. Secrets that connect her to the very murders she was investigating…

The Healer is set in desperate times, forcing Tapani to take desperate measures in order to find his true love. Written in an engrossingly dense but minimal language, The Healer is a story of survival, loyalty, and determination. Even when the world is coming to an end, love and hope endure.
Contest open to US and Canada.